Try or Cry! 10 Golf Courses With Crazy Good Prices in Pattaya That Will Get You Excited!
After Honda LPGA Thailand 2018 ended and left you guys a cliffhanger… well, why don't we treat ourselves some more! Let's make the swings and have fun! Today we're gonna show you amazing golf courses in Pattaya area, which are not only easy to travel but also offer super good prices. Already spent too much to watch the competition? These 10 courses will do it for ya.
Come closer and hear my whisper…
"Good deals like this? Exclusively on Golfdigg ONLY"
---
COURSE 1 | CHATRIUM GOLF RESORT SOI DAO CHANTHABURI |



In case you're looking for a golf course somewhere peaceful, located among a spectacular view of nature and valleys, with great accommodation — this is the place! Apart from an abundance of the course and its incredibly fresh air, this place is a real challenge. The steep greens and deep sand hazards will make the game even more exciting for you. Then, after a drive, we recommend you having dinner while watching the sunset with your loved ones because this course is such a perfect spot for it!
Weekday: 800  Baht
Weekend: 1,200 Baht
---
COURSE 2 | PATTAYA COUNTRY CLUB |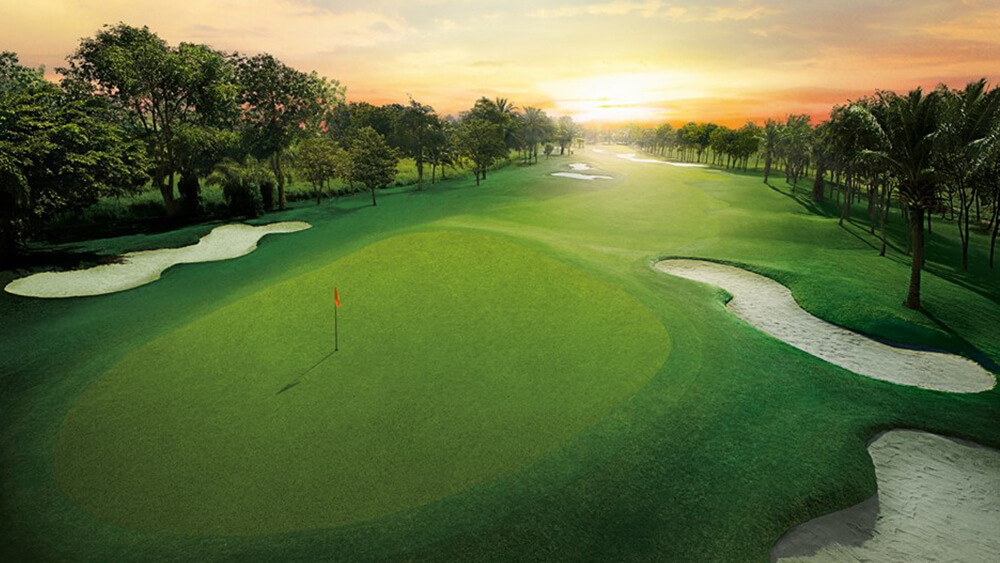 Wanna level up your ordinary days? Let's get in a car and drive to Pattaya Country Club. This place covers over 2,880,000 square meters allowing you to explore, enjoy, and get lost in the games! So if you're seeking courses with cool layouts, amazing view throughout the year, and not so far from Bangkok… we bet you'll fall in love with this one!
Weekday: 750  Baht
Weekend: 950 Baht
---
COURSE 3 | PHOENIX GOLD GOLF & COUNTRY CLUB |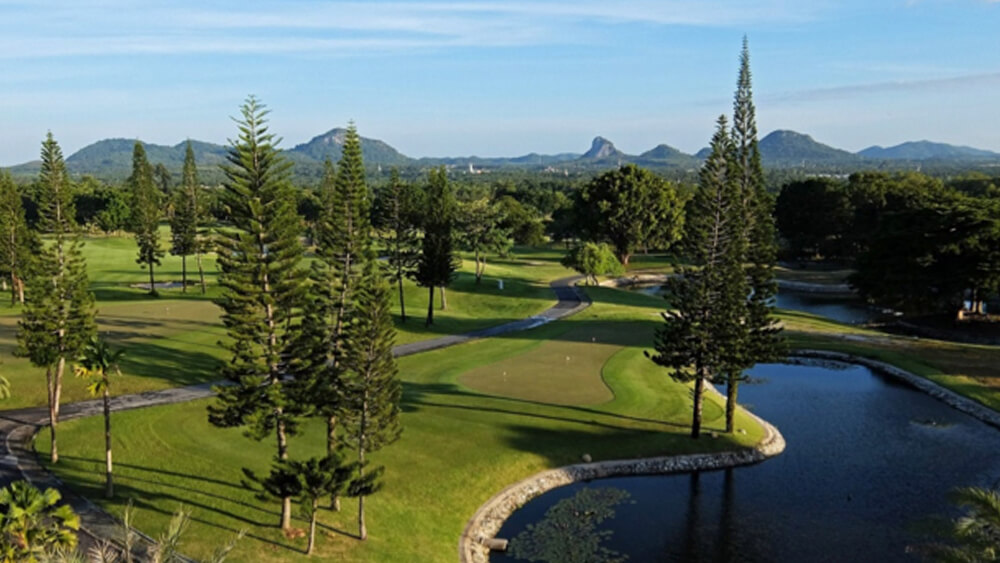 This breathtaking golf course is definitely a perfect spot to bring your family on a vacation for its such special ambience. Phoenix Gold Golf & Country Club is a 3-in-1 course, combining 3 different layouts: ocean, lake, and mountain. Each course has its own highlight, especially the ocean one. The ocean layout is where you can enjoy the view of Pattaya sea. The lake layout is where you can spot Khao Chi Chan, a famous buddha marking carved on the mountain. And lastly, the lake layout is a where you can indulge in peacefulness of the lake and spend time thinking about things. So this location is truly gonna be your 3-in-1 happiness!
Weekday: 1,200  Baht
Weekend: 1,600 Baht
---
COURSE 4 | SILKY OAK COUNTRY CLUB |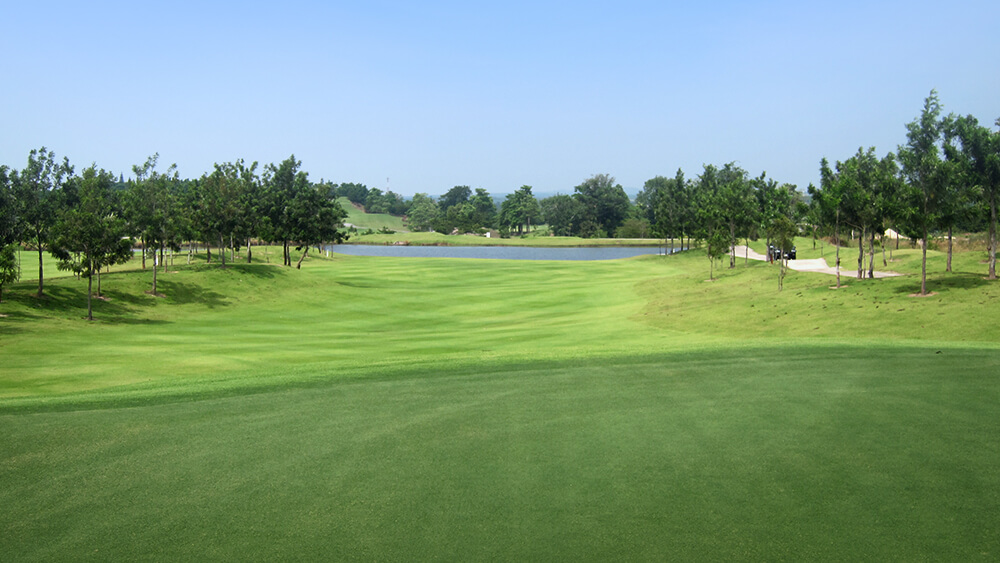 "Small yet superb" is the best definition for this course. Comparing its 528,000 square-meter area to other courses, Silverlake is considered a small one, yet every single acre of it is outstanding for its own and is used to its best. There are tee-offs, fairways, and greens lining up towards hole 1 in front 9, hole 1 in back 9, and all the way through. This will be a new excitement for you. The first 18 holes are British-styled, and the other 18 are American-styled. Pick what you like, and make your best putt!
Weekday: 750  Baht
Weekend: 1,000 Baht
---
COURSE 5 | GREENWOOD GOLF CLUB |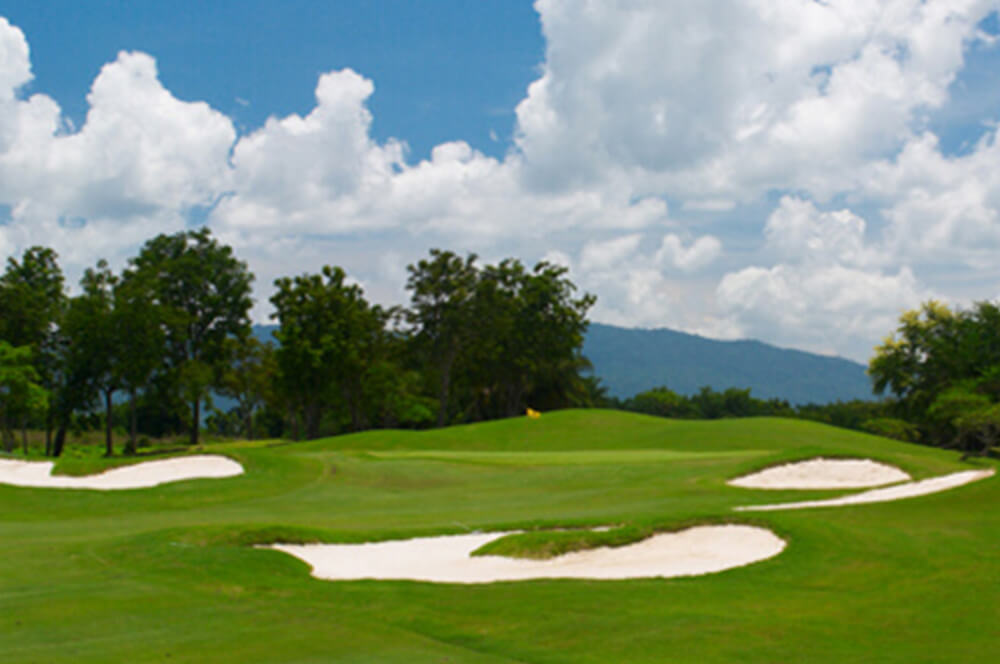 This is the place to experience a round of golf like in England without having to fly across the world. Greenwood Golf & Resort is ready to rock you! Besides the variety of its 27 holes for your mood, the fairways are also so wavy, and there are loads of bunkers, and the roughs are thick. If you think you have those 'monster skills' to control the ball… try!
Weekday: 1,100  Baht
Weekend: 1,600 Baht
---
COURSE 6 | RAYONG GREEN VALLEY COUNTRY CLUB |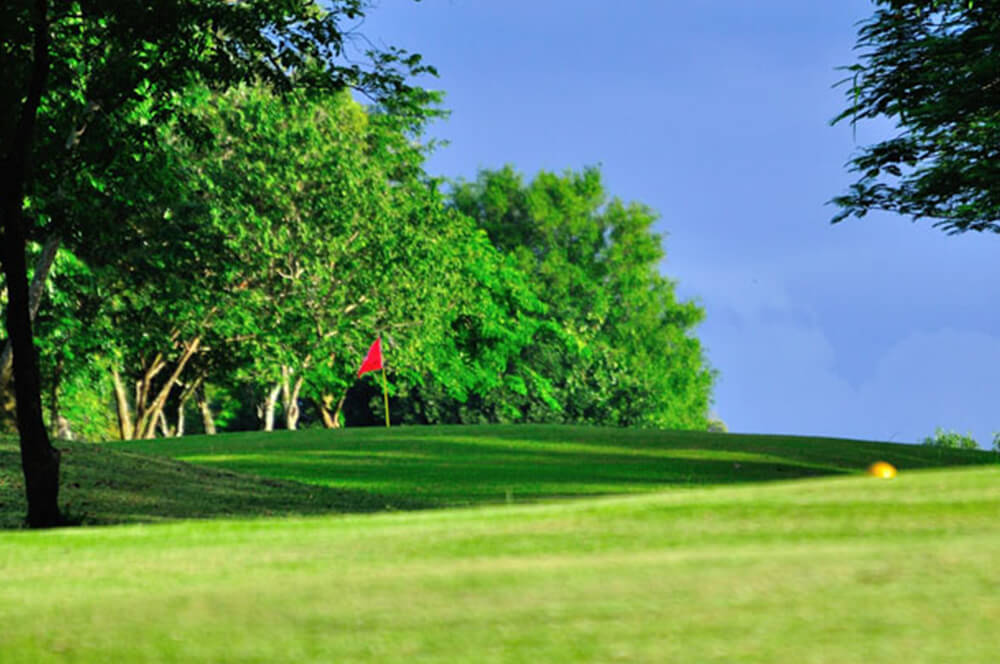 If a hilly, natural layout and tough wavy fairways got you excited, don't miss this course. It's located only 2 hours from Bangkok, and 30 minutes from Pattaya. We assure that you will enjoy the perfection of the course, fresh air, and the fairways that will make you go nuts!
Weekday: 1,350 Baht
Weekend: 1,700 Baht
---
COURSE 7 | THE VINTAGE CLUB |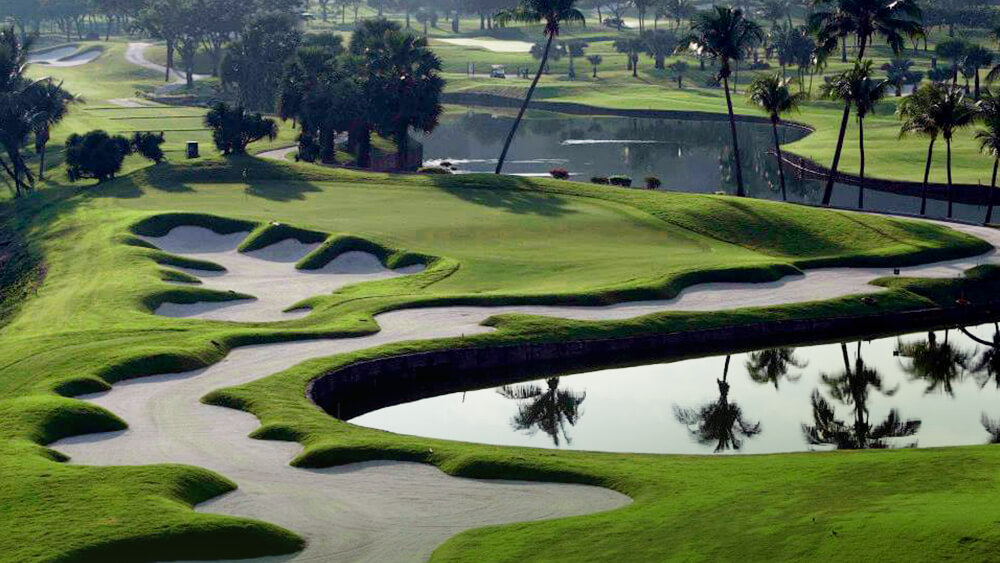 อีกหนึ่งสนามยอดฮิตในใจของคอกอล์ฟบนถนนบางนา – ตราด โดยลักษณะของสนามโดยทั่วไปนั้นเน้นที่ความเรียบง่าย แต่แฝงไว้ด้วยความท้าทาย นอกจากอุปสรรคทรายรอบๆ กรีน แนวโอบี บ่อน้ำ และบังเกอร์แล้ว ยังมีรัฟที่ทางสนามใช้วิธีการตัดแบบพิเศษ ให้ใบหญ้าตั้งตรง แต่ไม่หนา พร้อมให้คุณได้หวดโชว์สกิลแบบเต็มที่ และความคลาสสิกคือ สนามแห่งนี้ค่อนข้างแคบเมืื่อเทียบกับสนามกอล์ฟเปิดใหม่ในปัจจุบัน แต่นี่แหละคือเสน่ห์ที่นักกอล์ฟหลายคนเรียกกันว่าเหมือนการได้ "ตีกอล์ฟหลังบ้าน"
Weekday: 900  Baht
Weekend: 1,500 Baht

---
COURSE 8 | BANGPAKONG RIVERSIDE COUNTRY CLUB |

The Vintage Club is one of the most popular golf courses on Bangna-Trad Road. Overall it emphasizes simplicity but also hides difficulty within. Besides sand hazards around the greens and along OB lines, wells, and bunkers, there are also roughs which are specially cut to form the grass growing up straight but not too thick, to add up some more challenges for you. And what's so classic about this course is that it is quite narrow compared to other new courses nowadays. However, this is exactly the charm every golfer falls for — cuz, well, they say this place is like "golfing in a backyard."
Weekday: 950  Baht
Weekend: 1,300 Baht
---
COURSE 9 | LAEM CHABANG INTERNATIONAL COUNTRY CLUB |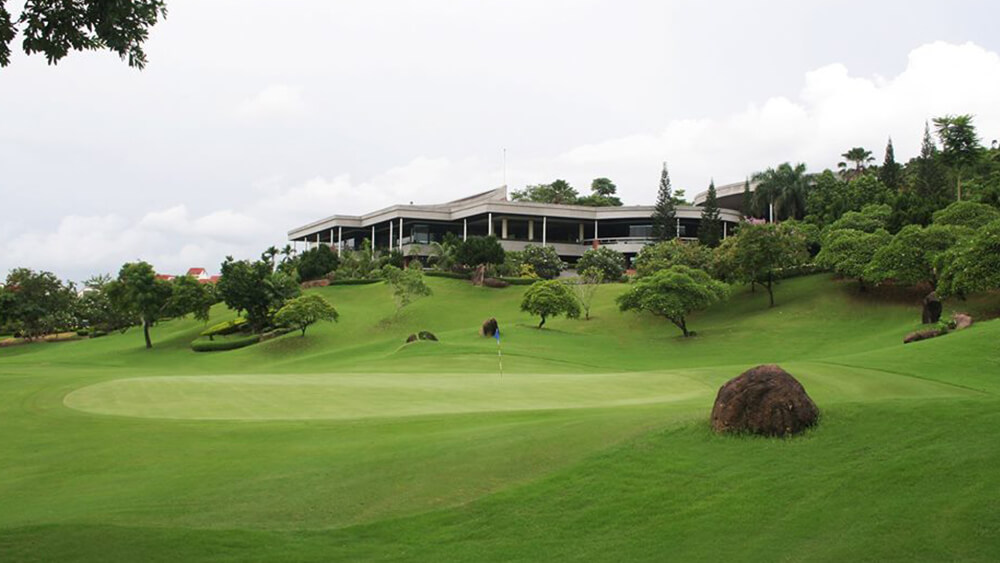 "Mountains, lake, and canyon" are the 3 signatures of Laem Chabang International Country Club. This 27-hole golf course designed by Jack Nicklaus is located in Sriracha district, about 120 kilometers away from Bangkok. It's said that wavy fairways and greens at this course are real challenges for everyone! It's pretty close to Pattaya, so if you really are a beach person, you can stop by for a round and go back to the back beach in no time.
Weekday: 2,500  Baht
Weekend: 3,100 Baht
---
COURSE 10 | ROYAL LAKESIDE GOLF CLUB |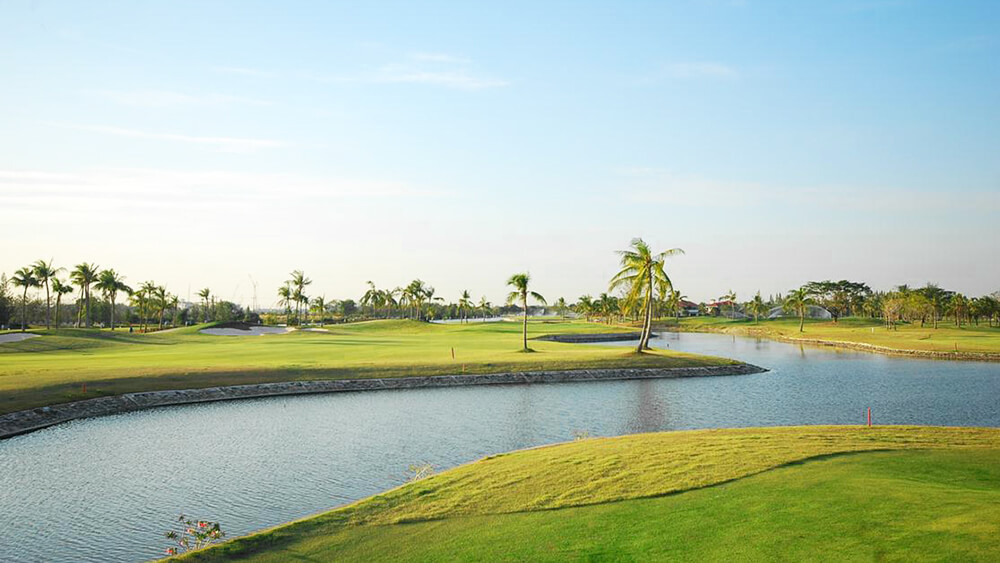 Royal Lake Side aka "Mirror Green Golf Course" explains how challenging this place is. If you like a TifEagle grass, you surely will enjoy the wildness of this course. Once you putt on the green, the golf ball runs so fast as if it was running on a mirror! Moreover, about 2,000 coconut trees surrounding make the scenery so amazingly stunning for everyone to indulge in while playing. Dying to check it out already? Start an engine, take Bangna-Trad road to Bangpakong district in Chacheongsao, and let's play!
Weekday: 1,300  Baht
Weekend: 1,300 – 2,100 Baht

---
Now you got the locations for these 10 great courses.
The next step is… open your Golfdigg app,
book the course, and then it's time to show off your swings!
---

เรียบเรียงโดย golfdigg

จองกรีนฟี ออกรอบ กว่า 150 สนามกอล์ฟทั่วไทย กับ golfdigg ได้แล้วบนเว็บไซต์
หรือดาวน์โหลดแอปพลิเคชันฟรีได้ที่