What's Golfdigg Corporate Exclusive Golf Service
Planning convenient and managing to book various services for the customers of the organization to achieve the highest satisfaction This is an important part of your customer retention strategy. To build more loyalty to the organization.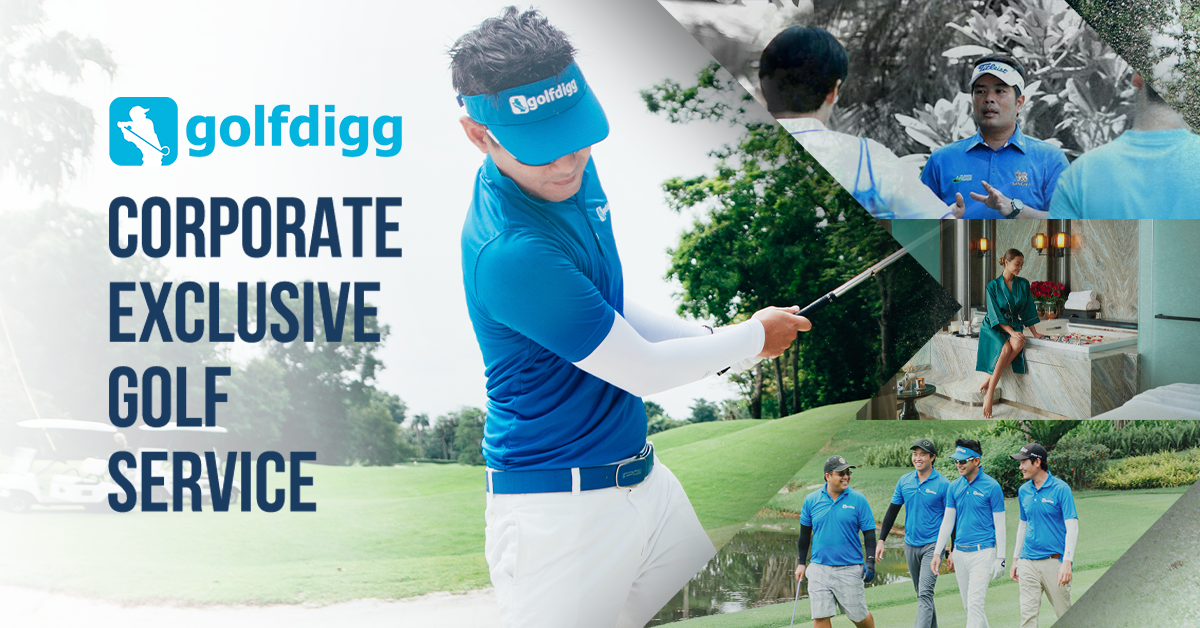 'Golfdigg Corporate Exclusive Golf Service' is a Services that will help facilitate Plan and manage the booking of various services for the organization's customers to achieve maximum satisfaction. This is an important part of your customer retention strategy. To build more loyalty to the organization. This service also simplifies the customer care process by yourself. Because we provide one stop service, complete, no hassle, and organizations can still control this budget. and can view a summary report of the number of customer service usage and monthly expenses as well.
Golf course booking experience:
In terms of golf services, Golfdigg has more than 7 years of golf booking and golf business experience, allowing us to select golf courses that meet the needs of corporate customers at a special price than booking yourself for sure. Outstanding in technology development to provide services and always create new impressions. Most importantly, we have a customer care team that supports 3 languages (Thai, English, Korean).

Our Service
Book over 150 golf courses in Thailand with golf player insurance
Book a golf school
Book Golf Package (Stay & Play)
Organize golf events / produce souvenirs in the event
Book a transfer
Book a hotel
Book a spa
Book the Airport Lounge (Miracle Lounge)
There are also special services to help organizations better understand and satisfy their customers, including:
Personal Assistant
Specials Surprise Program
Customer Retention Program
Customer service summary report and expenses which can be viewed on a monthly basis as well.
What the organization will receive
– Build relationships with special customers of the organization. Customer Retention Service enables organizations to build good relationships with more customers.

– Manage the cost of professional customer care. One stop service covering services such as booking rounds at a special price. To allow corporate customers to experience the privileges and manage costs of taking care of the company's customers.

– Increase the efficiency of customer service. There is a support team that can speak up to 3 languages (Thai, English, Korean) and has a variety of contact channels. to increase the convenience of taking care of your customers

– Systematically manage the database to deliver services more efficiently. Satisfaction was collected. including statistics on customer service usage To analyze and improve the service

– Better analysis of service results You can see an overview of customer care. There is a report that summarizes the use of services and expenses of the organization that can be viewed monthly.

– Confident from Golfdigg experience. With over 7 years of experience in golf business and lifestyle service technology, we understand and can create measurable satisfaction.

About Package
Standard Service: 24,000 baht*/year
*For 10 users/month (add 200 baht/person/month)
Premium Service: 40,000 baht*/year
*This price is for 10 users/month (add 400 baht/person/month)
Promotion! One Time Service Trial 200 baht/person
For more Information
TEL: +6689-333-1000
LINE: @golfdigg or @gdcorporate
Email: [email protected]
---

เรียบเรียงโดย golfdigg

จองกรีนฟี ออกรอบ กว่า 150 สนามกอล์ฟทั่วไทย กับ golfdigg ได้แล้วบนเว็บไซต์
หรือดาวน์โหลดแอปพลิเคชันฟรีได้ที่